Please Sponsor A Kitty.


Donate Any Amount You Would Like By Clicking On The Gold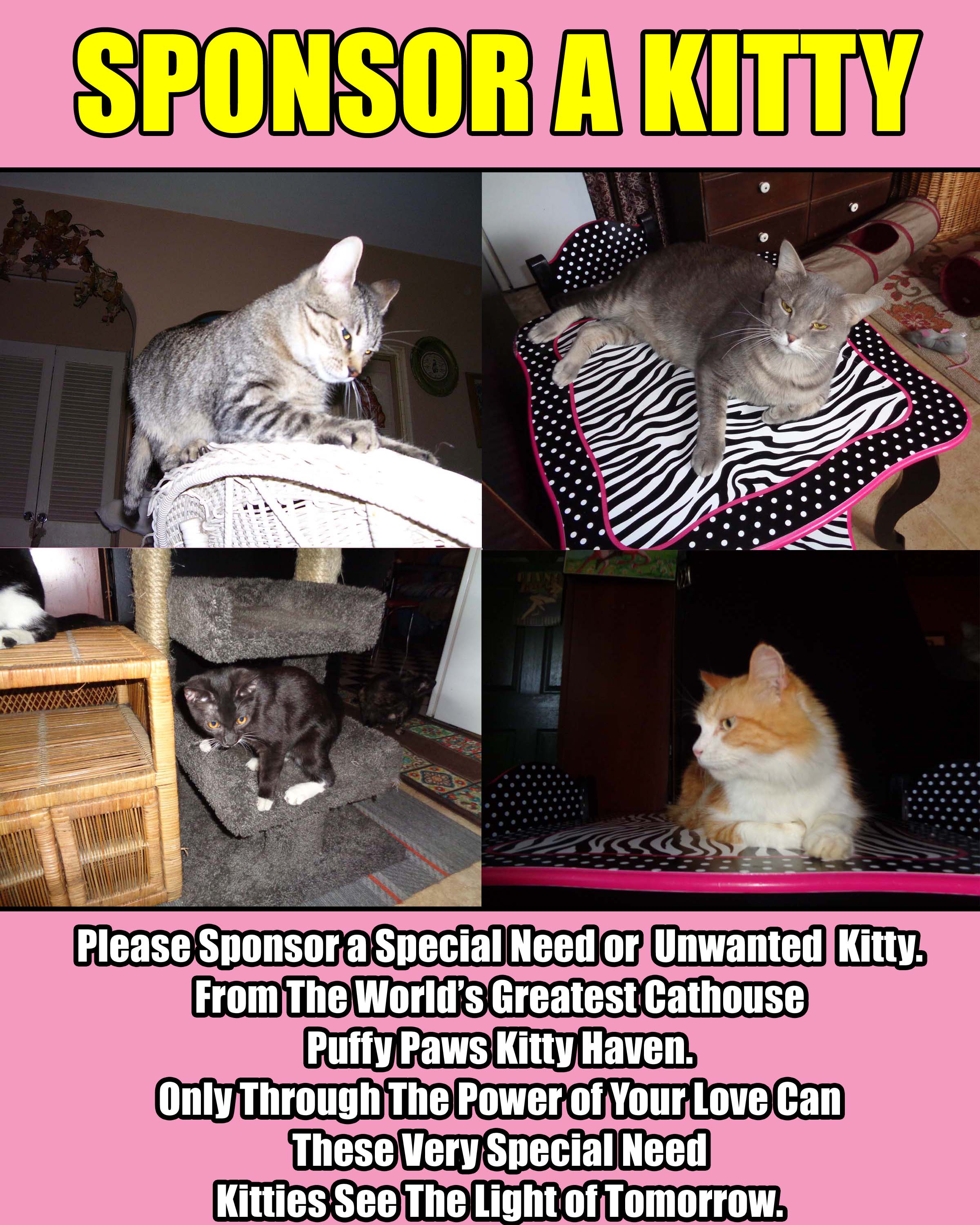 Only Through The Power of Your Love Can These Very Special Need Kitties See The Light of Tomorrow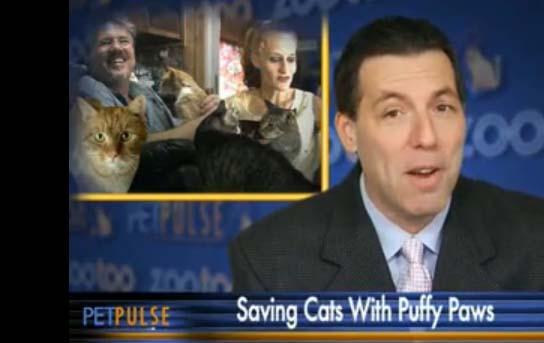 PET PULSE NEWS VIDEO
Welcome to Puffy Paws Kitty Haven Sponsorship Page.

Puffy Paws Kitty Haven unofficially began 20 years ago in the loving home of Chrissy & Rick Kingston.
Now Englewood, Florida's "World's Greatest Cathouse," Puffy Paws Kitty Haven is a 501(c) (3) non-profit, no-kill cat hospice and rescue specializing in providing quality and loving care to special needs cats and finding homes for the adoptable kitties under their care.
A Reporter from ABC 7 News has called Puffy Paws Kitty Haven " A Bed & Breakfast For Cats ". Another reporter from the Gasparilla Gazette, wrote " Puffy Paws Kitty Haven is immaculate and if all the cats hid under the bed, anyone entering the home would have no clue cats even lived there.
Since the airing of the Video in October 2008 on Pet Pulse and being on the NEW YORK POST web site.
The kitties have doubled along and it cost well over $30,000.00 a month to run Puffy Paws Kitty Haven.
$41.09 a hour every single day, 365 days a year.
"Puffy Paws cares for kitties with feline leukemia, FIV, feral cats, unadoptable kitties, one eye cats, senior kitties, kitties that do not use their litter box, abused kitties, cats with neurological disorders, abused kitties and more - basically unwanted and unadoptable kitties that would be euthanized elsewhere.
Click Here To View IRS Form 990 For 2014
Click Here To View IRS Form 990 For 2015
Click Here To View IRS Form 990 For 2016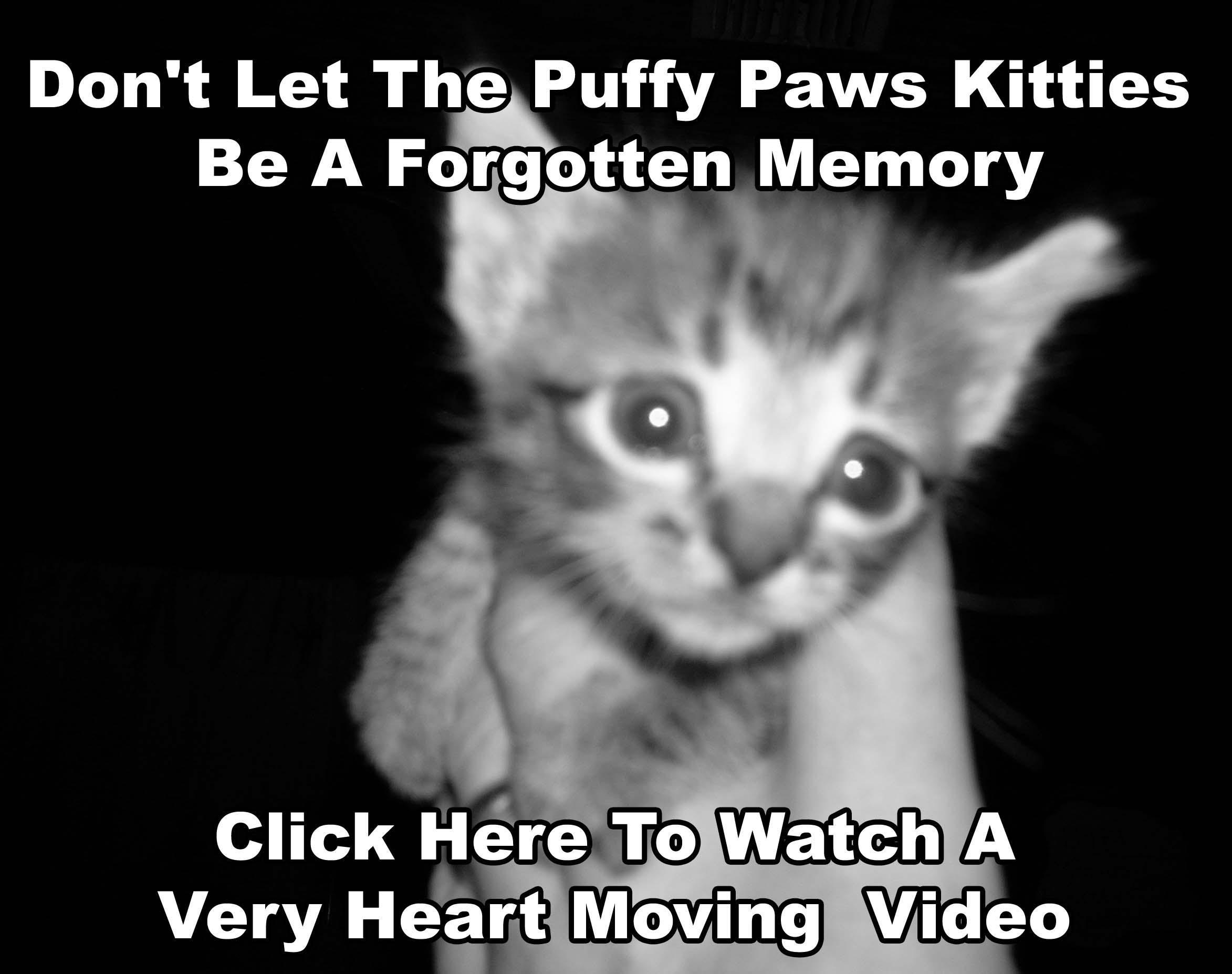 Why Sponsorship ?


With so many special needs & unwanted kitties at the Haven , everyday we must ask for help from Cat Lovers from all over the world, so that we may keep continuing our mission in helping the special need & unwanted kitties under our care.

Your recurring monthly donations will help us to take care of the kitty you choose to sponsor and the kitties, under our care and provide working monthly capital to to aid the operation of Puffy Paw.
WHAT DO YOU GET

When sponsoring a special needs or unwanted kitty, your kitty lives large at Puffy Paws Kitty Haven.
With every sponsorship you will get a warm fuzzy knowing that you are providing a safe and comfortable life for your new best friend.
So please sponsor a special needs kitty or unwanted kitty that melts your heart.

Suggested Recurring Monthly Donation From A Major Credit Card or PayPal.

$10 - $25 - $50 - $75 - $100 A Month.
Please Only Donate Monthly What Your Heart and Budget Can Afford For A 12 Month Commitment.
Thank You
Mad Kitty Love
Click On A Kitty To Sponsor