Wish List


Donate Any Amount You Would Like By Clicking On The Gold
Sign Up For Our Updates & SOS's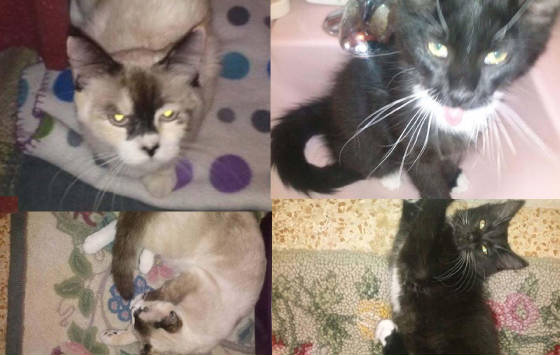 Puffy Paws Kitty Haven needs your help.Please check out the kitties Amazon Wish List above and we are in need of the following items below.

LOCAL

If you are in the neighborhood you may drop them off at The Collectible Shop.We are next to the Englewood's Walmart.

If you are in the Englewood's Walmart's parking lot and are facing the far right hand entrance ,which is the Grocery entrance. Look right and you will a set of storage units, we are the last unit on the left - Unit E. Just look for the " Donation & Storage Center Sign "

NATION & WORLDWIDE

We are in need of any cell phones, digital cameras, camcorders, computers, lap tops, tablets,video games & sytems, that you are no longer using. So we may use them in our endeavors at the Haven and at the Collectible Shop. ....

Please send too:
Puffy Paws Kitty Haven
270 Lakeview Lane
Englewood Florida 34223
CAT TREATS & CATNIP
Any kind of treat & Catnip for the kitties.
BEDDING & THINGS FOR THE CATS

Catnip
Cat Trees

Wicker Baskets
New Hut type cat beds, small or medium size
Cat toys, especially mice
Free-standing scratching posts & circles & inserts

Gift Cards & Certificates

Publix Gift Cards
Walmart / Sam's Gift Cards
Target Gift Cards
Home Depot Gift Cards

BIG STUFF

*Car * Mini-Van * Truck * SUV


Click Here To View Our Non Profit Papers With The Florida Department of State - Division of Corporations.
Click Here To View IRS Form 990EZ For 2014
Click Here To View IRS Form 990 For 2015
____________________________________________________________