BEHIND THE SCENES OF VET WEDNESDAY


The Night Before Vet Wednesday & Vet Wednesday.
While most folks and cats are getting ready for bed on Tuesday night, Chrissy, Co-Founder of Puffy Paws, is on her 4th shift of her day.


For The Background Story on Chrissy: Please read:
Chrissy - A Woman With The Strength Of A 1,000 Men @

Chrissy does the last feeding of the kitties between the hours of

9:30 pm - 11:00 pm, on Tuesday evening and she is constantly scooping the boxes.


Than she posts on facebook ,the kitties that are going into the Vet and what medical treatment, they will being receiving from the vet.


Than after that is done, after 11pm, she gets the kitties pet carriers and paperwork ready for Vet Wednesday.
We could never pay the vet ,with the cost of the vet care for the month. That is why they do not give us credit or a payment plan.


With being a Cat Hospice ,we can not go on for even one day without vet services.


We are sooo very grateful to all of you always.
We Kitties are blessed all because of your kind ❤ hearts.


Love always all da kitties. -".."- "
Than after that is done, she finds a project to do, change out drapes, dust this and dust that, move this to clean and mop ,this and that, This is why the Haven is spotless.


This Is Is What The Local & National Media Has Been Saying About Puffy Paws Kitty Haven.


" Puffy Paws is a Taj Mahal For Kitties ".Dee Anne Roberts WENG Radio Host - All About Pets
" The Cat's Meow of Nonprofit Organizations"

Josh Taylor from ABC 7 News has called Puffy Paws Kitty Haven

" A Bed & Breakfast For Cats ".


Tami Patzer from the Gasparilla Gazette, wrote " Puffy Paws Kitty Haven is immaculate and if all the cats hid under the bed, anyone entering the home would have no clue cats even lived there.


Stephen Baumann from the Englewood Sun Herald wrote - You might think the Kingston household is a crowded, purring, furry mess. It's not.The house is big enough, and the cats small enough, that everyone's got more than enough room to stretch out, which is how cats spend much of their day anyhow.
Chrissy goes into the wee hours of the morning and than sleeps only for a few hours and gets up and than 'Boom" it is Vet Wednesday.


When the sun is rising, she feeds the kitties once again,

Food is down, 24/7, wet food is changed out ,every four hours, dry food is down 24 /7 and the kitties get fresh bottle water through the day and night,


Than Chrissy gathers the kitties and than puts the kitties in the carriers, and if any ferals ,have to go in, she is a master a netting them.


Than Chrissy or me take them to the Vet, at 8:30am
and pick them up and I do the fundraising, all day long, to make sure the Vet bill is paid,so we may have Vet Services.
We do everything we can do, for the 2nd Chance kitties at Puffy Paws, to give them a outstanding quality of life , with constant vet care ,for the sick ones, yet here at Puffy Paws Kitty Haven ,we do not put down any animals for behavior problems, space or adopt-ability issues.


Yet Puffy Paws Kitty Haven never has and never will let any kitty suffer with any medical condition that only allows pain & suffering and no chance of survival.
This why I always say, we are a ," Common Sense No-Kill"
When one kitty goes over the Rainbow bridge, a slot opens up at Puffy Paws and than we can say, Yes, to the kitties that have no place to go and many of them would of face certain death , if we said No, to them coming into the Haven.
Only because of the support of the kitty lovers around the world is the only reason we can say 'Yes",when it comes to the kitties that no one wanted or could care for.


Thank you for letting us save all these kitties and to let them live their lives out at Puffy Paws.
Still Vet Wednesday is a hard road to trudge, it can be full of joy when a kitty makes a remarkable recovery and a heart break , when another paw print is added to your soul, when they cross the Rainbow bridge with the help of the vet.
Only through your generous support, can we give the 2nd Chance kitties , the best heath care ,that they deserve.
If your heart and budget can afford to help the sick kitties that need vet care today, please donate, if you can.
No donation is ever to small, they all add up,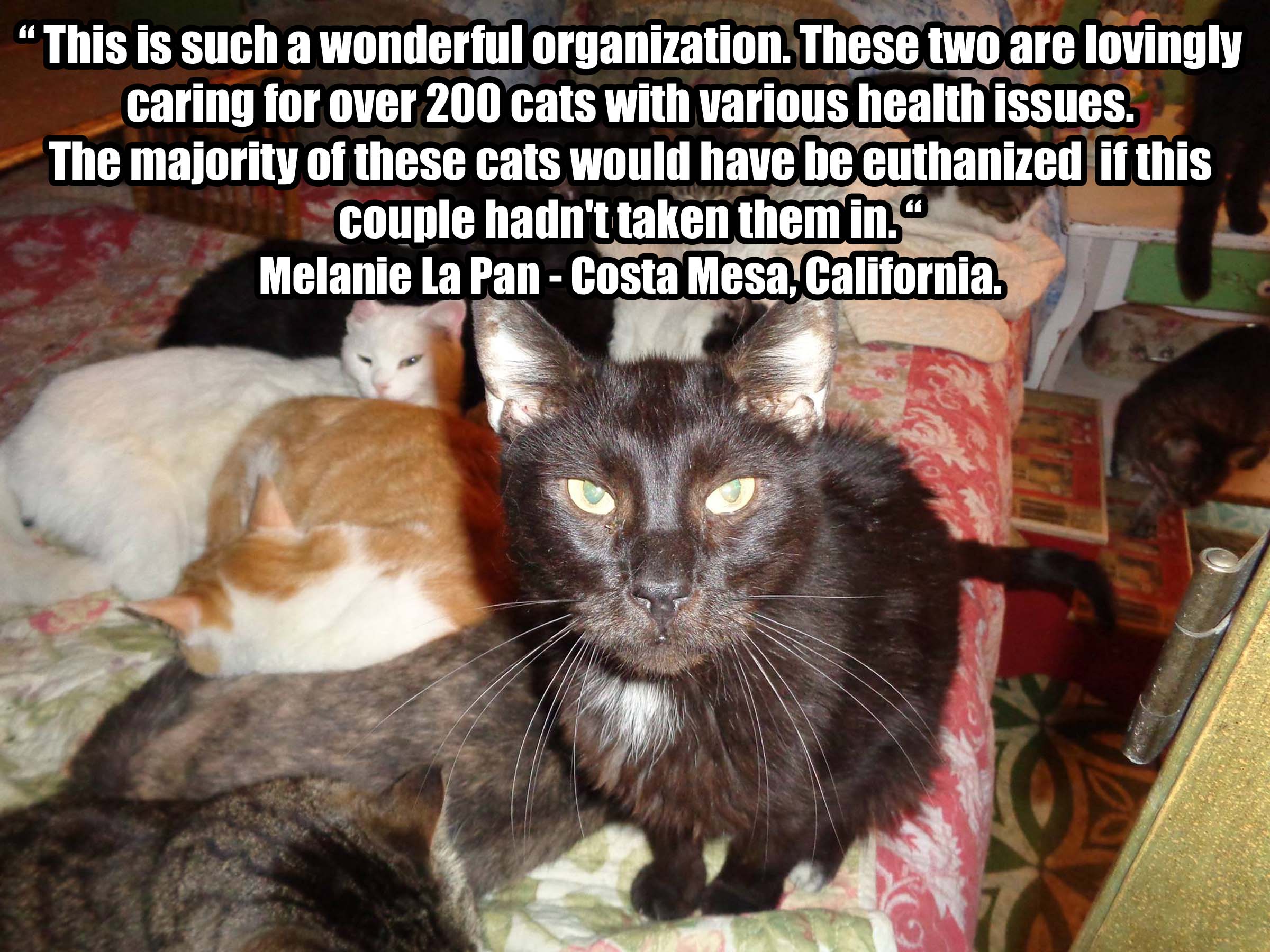 We can never do what we do for the 2nd Chance kitties at Puffy Paws and for this ,we are eternally grateful for each and everyone of you


Please Help if you can.

TWO WAYS TO DONATE


1. Donate On The Kitties Web Site @

2. Call Loving Care Animal Hospital To Put Funds On Puffy Paws Kitty Haven Account at 941-474- 7771.


Thank you For Taken Part In This Amazing Journey

Mad Kitty Love

Rick & Chrissy & Da Kitties

941-623-8904